Kimberly Wells: A 40-Year Journey of Healing, Hope, and Family Support

Kimberly Wells has always wanted to help people and found the perfect fit as a Hospice Social Worker for Midland Care. Wells said, "I have always been a person that wants to help others. When it was time to choose a major in college, social work came naturally to me."
Wells has been a Social Worker for nearly 40 years. Before working at Midland Care, she worked for Aldersgate Village for six years.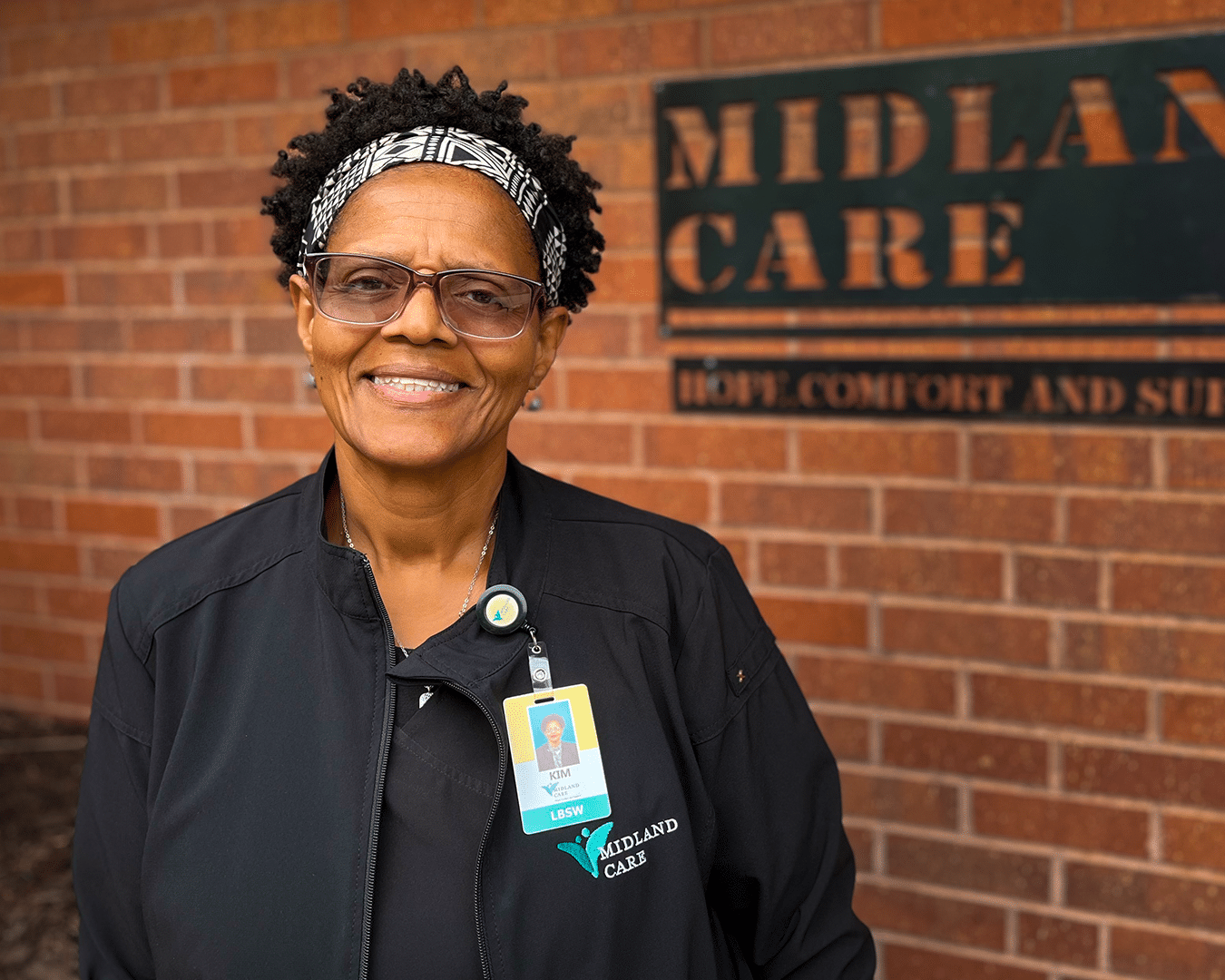 She shared, "My career spans child protective services, long-term care facilities, and persons with disabilities. I often say that I have worked with persons from birth to the grave."
Wells earned her social work degree from Upsala College in East Orange, New Jersey. She had previously started earning her master's degree from Washburn University and is in the process of starting that over again.
She was a little nervous about working in Hospice. Wells said, "When I first took the job, I was a little apprehensive about working with death and dying. Here at Midland, I discovered my passion. I love working with our families. I find that as we come to assist them through these troubled times, sometimes we will bring about laughter and sometimes tears, but we, as a team, get them through a time that is very difficult for them. I love my job and our department's great team of social workers, chaplains, and grief counselors. I never knew how rewarding my life could be until I shared with our families in the hopes of bringing them through this often rough journey."
There is also a stigma that accompanies Hospice. She said, "I have learned that people are often scared or turned off by death and dying. Working with the team here at Midland, I have found my passion. My duties are to bring understanding, comfort, and closure as a family's loved one takes their next journey. I often tell families that their loved one is just on another journey instead of passing and dying. I've also understood the importance of ensuring that families are ready to assume the responsibility of having Power of Attorney for their loved ones. I've noticed that many families are unprepared for this role and its associated responsibilities."
Kimberly especially enjoys her coworkers. She said, "What I like the most about working at Midland is how everyone here is always willing to help each other. I told a good friend about Midland. I explained how often everyone is friendly when you get to a new job. Then, over time, office politics and water cooler gossip often occur. I told her I had been waiting for the bottom to fall out. I have been here for almost a year. It is still so refreshing to have coworkers that ask you, 'Do you need any help?', 'Are you having a good day?' I have worked for 38 years as a social worker, and I feel loved and valued at Midland. It sounds cliché, but I am at home at Midland."
Wells attributes a lot of support from her husband, Donald, of over thirty years. He is a wealth of knowledge as he provides Medicare customer service support.
Outside of work, Wells has plenty to do to keep herself busy. She volunteers with the Boy Scouts of America, where she has been a Cubmaster and a Scoutmaster for over ten years. In addition to her involvement with the Boy Scouts, she was a member of the Topeka High Bandbackers and served as a Chaperone Parents for the Topeka Drumline. Wells also enjoys camping, fishing, knitting, crocheting, and making wreaths. Her favorite activities include going to yard sales and antiquing.
Going to K-State football games and watching her son, Christopher, play in the marching band brings her joy. While majoring in music performance, he plays in many of the ensembles at the University. She has two older sons who have disabilities. She shared, "They will never have the experiences Chris has to attend college. Their purpose on earth is just as important. They bring joy to me every day. My life would not be as full without them in it."