Laura Donaldson: The Heart and Soul of Palliative Care – Determined to Make Every Day Count

When Laura Donaldson speaks, you can hear her kind heart from the sound of her voice. She is exceptionally loyal, sincere, and a little bit of a perfectionist.
Donaldson uses that kindness and her determination to work as a Palliative Care nurse. And that work keeps her hopping.
"I keep close tabs on our Palliative patients through phone calls to make sure we are managing symptoms at an acceptable level and maintaining goals of care," she said. "My job duties are like that of the nurse in your primary care office- I triage calls, handle medication refills, complete new patient intake visits, collect vital signs, maintain medical records, schedule appointments, and any other nursing or office task that needs handling."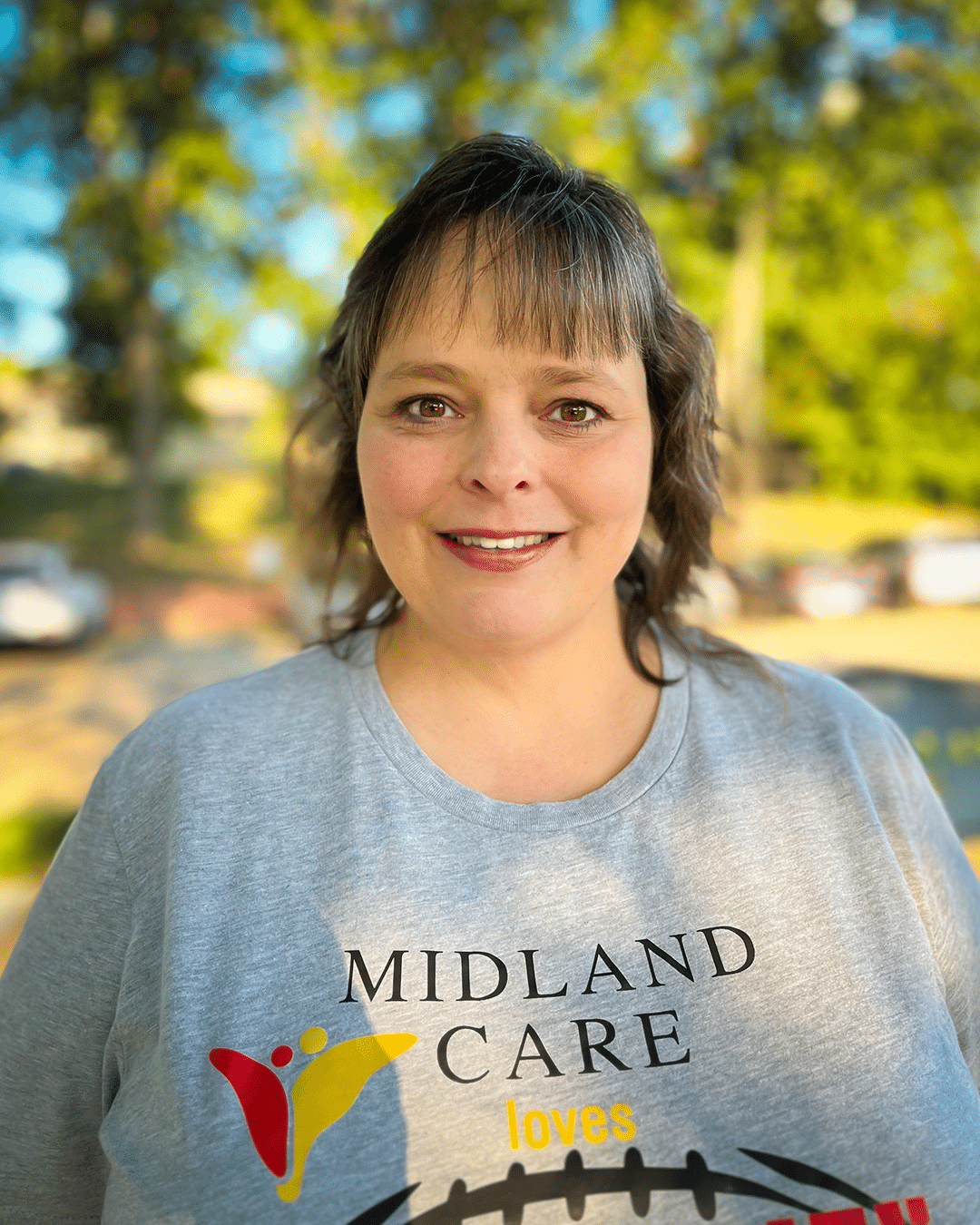 Midland Care offers Palliative Care in Shawnee County.
Donaldson said, "Palliative Care is a specialty program dealing with symptom management. Our number one goal is helping our patients maintain functionality in the face of serious illness. We form bonds with our patients and their families and work diligently to lessen hindering symptoms so they can enjoy and make the most of each day. We strive to ensure our patients and families understand their disease, help make informed medical decisions such as advanced care planning, and support and work with patients to achieve healthcare goals." 
Before working for Midland Care, Donaldson worked as a health para in the nurse's office for the Seaman School District for nearly six years. After that, she worked at Stormont Vail for twelve years. She worked as a Medical Assistant for about six years, and during that time, she attended trade school to become an LPN. (She earned her Medical Assistant degree from Topeka Technical College and her LPN degree from Washburn Technical College.) She then served as an LPN for six years at Stormont Vail.
Donaldson loves working for Midland Care.
"I am proud to work for Midland. We provide services to our community and surrounding areas that are beneficial, supportive, and NEEDED to persons during the good and bad times of life. Our Midland Vision: 'Touching more lives with excellence in care and service' speaks to me the most as I work to provide the best care I can in every interaction," she said. "That is the heart of Midland and what we all strive to achieve each day in our interactions with our neighbors near and far."
She was born in Chicago but raised in the bootheel of Missouri, in a small town named Kennett. Arkansas was her backyard, and with her sweet southern accent, she said, "If you blink twice, you'll be on the Mississippi River or in Tennessee."
Donaldson loves spending time with her four grandchildren outside of work and watching the Chiefs. A baker, she has recently started canning with her husband, and together, they've made a peach preserve. Together, they make Sunday dinner for their children and grandchildren.
She said, "My grandchildren are my heart, and I have them over nearly every weekend."
When asked to be the focus of the Employee Spotlight, Donaldson said she preferred being in the background.
Blaire Helgeson, Palliative Care APRN, values the hard work Donaldson brings to the table.
"Laura is the heart of the palliative care program. She helps patients feel connected to our office between visits because she is funny and compassionate during her check-in calls. Her organization skills ensure that our program runs smoothly and our patients' needs get met swiftly," Helgeson said. "I enjoy working with Laura because she is a trusted colleague and a generous friend with a great sense of humor. I look forward to working with her each day."