Meet Sherby Miller: A Tale of Smiles, Green Thumbs, and Joyful Connections

Sherby Miller was born to make people smile as soon as they see her, and due to her green thumb, she is known around Midland as the plant whisperer.
Miller serves as a housekeeper for Midland Care. In addition to providing a safe and clean environment, she truly has a heart for helping plants survive.
"If you go to the offices on our Main Campus, if there is a plant in there, then I've taken care of it," said Miller.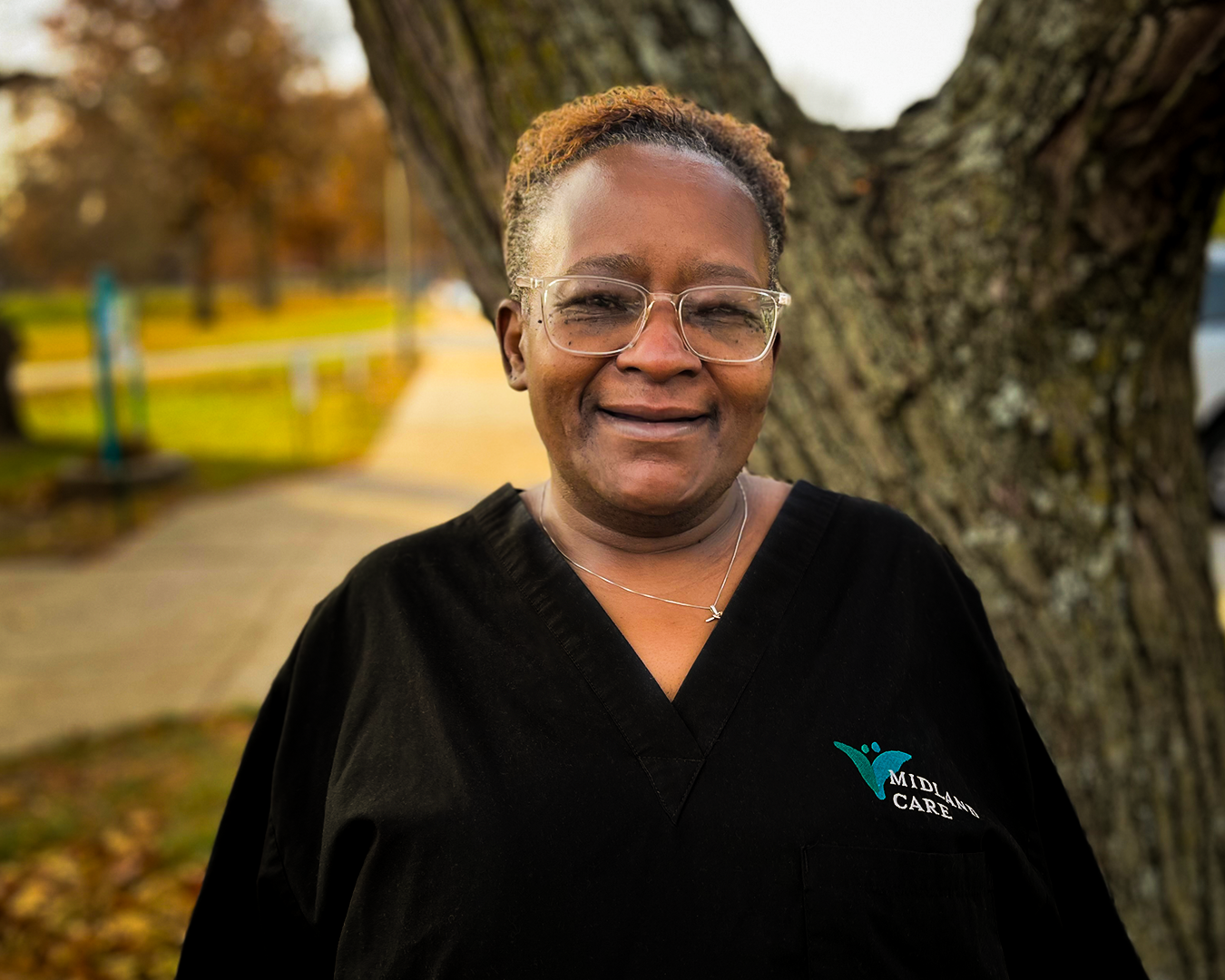 And Miller doesn't just give the plant basic necessities. She names them and has pictures printed in front of the potted plants. The plants are called everything from Squidward from "Sponge Bob Square Pants," Audrey from "Little Shop of Horrors," "Boss Baby," Sheldon from "The Big Bang Theory," "Puss in Boots," and even, "Howard the Duck."
Her colleagues and friends know what to do with a plant that is not thriving.
"If a plant is dying, they bring it to me because everyone knows I am the plant woman," said Miller.
Some co-workers even found IVs for plants, which seemed appropriate for the healthcare environment.
It looks like Miller lives in a well-maintained forest at her home.
In addition to loving to help plants thrive, Miller said the plants have helped her get to know her co-workers on a much more personal level.
Betty Boop decorates Miller's office door, but her sons and grandchildren bring her joy. Regrettably, she has lost one of her sons. Miller's faith reassures her that she will see him again one fine day.
Her eyes light up when she speaks about her grandkids; there are over fifteen of them. She also loves to cook – everything from hot wings, chili, and lasagna to fried chicken.
Miller loves her colleagues.
"I like the people I work with. I get along with everybody," she said. "I like working for Midland Care, and it's a good job." 
Kimmy McClain, Housekeeping Supervisor, loves the carefree attitude Miller possesses.
Before working at Midland Care, she worked as a housekeeper at the Capitol-Plaza hotel for nearly four years, as a Breakfast hostess/server at Brewster Place for one year, and at Jostens as a machine operator for yearbooks for almost 14 years.