Transforming Lives with Compassion: Rhonda Flanagan's Impactful Journey as an Occupational Therapist at Midland Care's Home Health

Rhonda Flanagan was born to make a positive difference.
She is a Registered Occupational Therapist (OTR) at Midland Care's Home Health.
"I go to client's homes and evaluate their need for Occupational therapy (OT) services. OTs help people get back to daily functional tasks after an illness, surgery, or life-changing event, such as a stroke.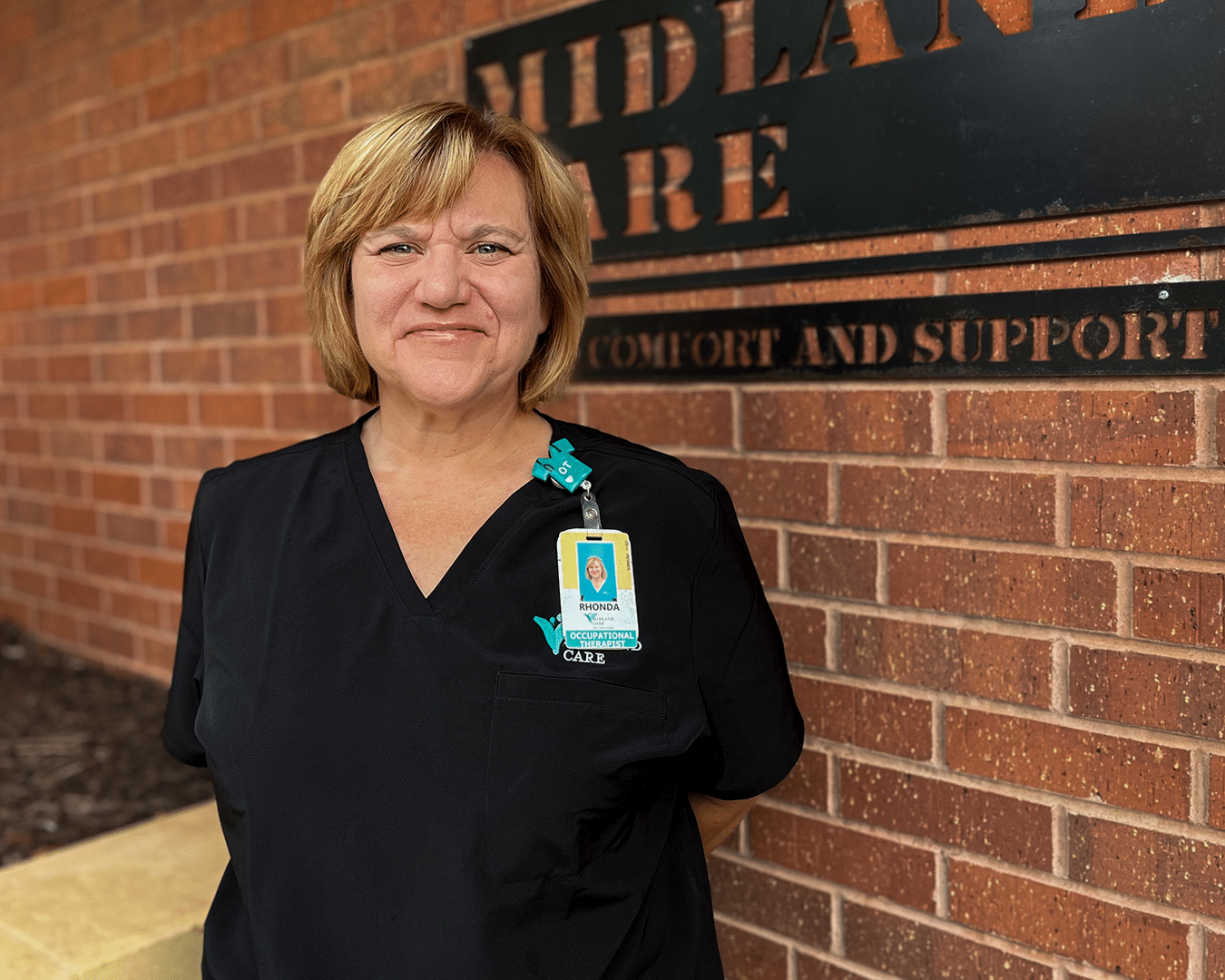 They may need strengthening, special equipment, training for patients and caregivers, and modification of environments or activities so that they can be more independent in dressing, toileting, bathing, cooking, etc. We help ensure people are safe in their homes from things like falls," Flanagan said. "OTs take into consideration the whole person. Sometimes, the best thing you can do for a person is listen to them and let them tell their story. Everybody wants to know they matter and are heard."
Flanagan is proud to work for Midland Care.
"I like helping people and making a difference. I really like meeting and working with the people we serve, and I have wonderful co-workers," she said. "It is great to work for an organization that wants to help others and make their lives better. Midland Care works to give us the resources we need to do this." 
Her co-workers describe her as loving and caring. She is a good team member who smiles a lot.
Debbie Conkle, Care Team Coordinator, enjoys working with Flanagan.
"Rhonda is a true asset to Midland Care. She provides high-quality care, all with a smile on her face. She always goes above and beyond," Conkle said. "She truly cares about every client and colleague." 
Before working for Midland Care, she worked at KU Med at St. Francis Campus in Home Health.
She is a Kansas City, Kansas native and an alumni of the University of Kansas. After graduating, she moved to Topeka, where she met her husband. Since 1988, she calls Topeka her home.
In her free time, she enjoys being outside. She finds joy in spending time with her family and animals.
"My husband and I have a small hobby farm, which keeps us very busy. I love to ride my horse and garden," she said. "I like taking care of the land and nature. I also really enjoy reading. Being out in nature and being with family brings me happiness."
Due to her sports-loving husband, she is "forced" to follow the New York Yankees, Los Angeles Rams, and the Kansas State University Wildcats.